Gems 1200/1600 Series OEM Pressure Transducers
切换至 中文版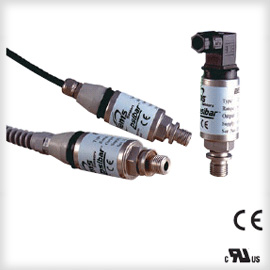 Product Type:
Brand and Serie:
Gems Sensors (捷迈) 1200/1600 Series
Product Features:
Voltage and Current Output
Gauge, Vacuum, and Compound Pressure
General Purpose and Wash Down Enclosures  
Product Selection:
OEM Pressure Transducers Featuring Exceptional Proof Pressure and Stability Specifications
The 1200 series pressure sensor features stability and toughness via its CVD and ASIC design coupled with a thicker diaphragm. The thicker diaphragm enables these pressure transducer sensors to survive most pressure spikes caused by pump ripple, solenoid valves, etc. The 1600 series extends the packaging options by providing an all welded stainless steel back end for demanding industrial applications. A modular design allows special ordering of fittings, electrical cables, etc. for OEM applications. The ASIC and CVD technology enables Gems™ to offer almost any output over any pressure range.
Applications:
Off-Highway Vehicles
Natural Gas Equipment
Semiconductor Processing
Power Plants
Refrigeration
Robotics
HVAC
Know More about CVD Pressure Sensors
For more information and details about Gems 1200/1600 Pressure Transducers's information, please [Contact us].
Click to GEMS[捷迈]1200/1600 PSIBAR 系列压力变送器中文版 (Gems 1200/1600 Pressure Transducers)