Gems PS31/PS51 Series Pressure Switches
切换至 中文版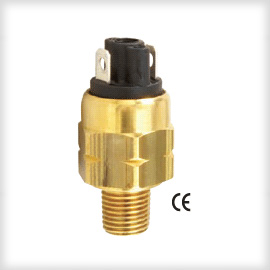 Product Type:
Brand and Serie:
Gems Sensors (捷迈) PS31/PS51 Series
Product Features:
5 to 300 psi (.345 to 20 bar) 
Adjustable or Factory Set
Ideal for Low Temperature Pneumatic Applications
Product Selection:
Gems Sensors These compact pressure switches are designed for OEM applications. Made economical with metal blade contacts in lieu of microswitches, the PS31 series features Kapton® diaphragms. Kapton® Polyimide maintains excellent physical properties over a wide temperature range. It also offers superb chemical resistance and has no known organic solvents.
The PS31 and PS51 share identical construction and envelope dimensions, with the PS51 series providing higher pressure ranges.
*CE approval - EN61010:2001 standard
Gems General Pressure Switches
For more information and details about Gems PS31/PS51 Pressure Switches's information, please [Contact us].
Click to GEMS[捷迈]PS31/PS51系列压力开关中文版 (Gems PS31/PS51 Pressure Switches)