Gems 809 Series Capacitance Pressure Transducer
切换至 中文版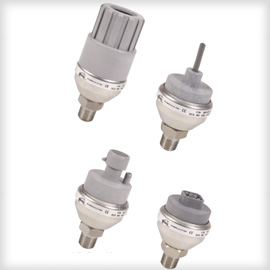 Product Type:
Brand and Serie:
Gems Sensors (捷迈) 809 Series
Product Features:
Sensing Ranges From Vacuum to 10,000 psi (689 bar)
Rugged Stainless Steel & Valox®  Housings 
Ideal for High Shock & Vibration Applications
Product Selection:
Capacitance Low Pressure Transducers
Capacitive transducers are simple, durable and fundamentally stable. Variable capacitor technology, a rugged physical configuration, stainless steel wetted parts and a careful marriage of the mechanical assembly to the electronic circuitry combine to create highly repeatable transducers with low hysteresis and only 0.5% long-term-drift full scale per year, for low pressure applications. This large family of sensors includes models for positive pressures to 10,000psi (700 bar), absolute vacuums, differential pressures, barometric pressure, low pressures (0-15 psi/ 0-1 bar), and clean-in-place 3A sanitary applications.
Gems Sensors The 809 series pressure sensor is designed specifically for industrial applications with demanding price and performance requirements. They offer exceptional reliability in typical industrial grade environments. The 809 series pressure transmitter operates on low-cost, unregulated DC power, and over a wide temperature band with both liquids and gases. Designed for harsh environments, they are suitable for use in high shock and vibration applications. Stainless steel and Valox® housings are small and lightweight for easy integration into compact systems. The standard feature set of the 809 Series delivers exceptional performance in extreme environmental conditions at a price that OEMs will appreciate.
Applications:
Hydraulic Systems
Compressor Control
HVAC/R Equipment
Industrial Engines
Process and Containerized Refrigeration Systems
Industrial OEM Equipment
Capacitance Pressure Transducers
For more information and details about Gems 809 Pressure Transducers's information, please [Contact us].
Click to GEMS[捷迈]809系列压力变送器中文版 (Gems 809 Pressure Transducers)