Gems 4700 Series Sputtered Thin Film Pressure Transducer
切换至 中文版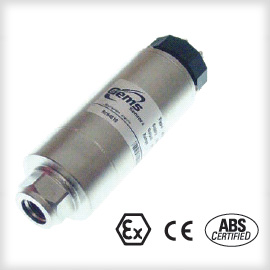 Product Type:
Brand and Serie:
Gems Sensors (捷迈) 4700 Series
Product Features:
Current Output 
Gauge, Sealed and Absolute Models 
Submersible, General Purpose and Wash Down Enclosures 
Intrinsically Safe Models
Product Selection:
The 4700 series pressure sensor provides precise laboratory type measurements in a rugged industrial package complete with turndown capabilities. Exceptional levels of stability and other performance specifications are achieved by using a sputtered sensing element, which achieves a molecular fusion of a strain gauge material, an insulating material, and the 17-4 PH ss sensing element. Sputtered or thin film technology provides years of worry free measurements under demanding real world conditions.
Applications:
Off Highway Vehicles
Natural Gas Equipment
Semiconductor Processing
Power Plants
Refrigeration
Robotics
HVAC
Sputtered Thin Film Pressure Sensors
For more information and details about Gems 4700 Pressure Transducers's information, please [Contact us].
Click to GEMS[捷迈]4700系列压力变送器中文版 (Gems 4700 Pressure Transducers)