Gems FS-380P Series Flow Switch
切换至 中文版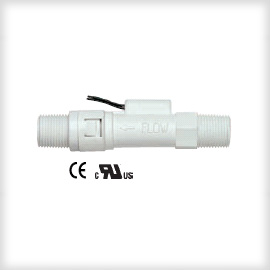 Product Type:
Brand and Serie:
Gems Sensors (捷迈) FS-380P Series
Product Features:
Low Pressure Drop Design 
Flow Rate Settings: 0.25 GPM to 2.00 GPM 
Port Size: 3/8" NPT Male and 1/4" Quick Disconnect (QDC) Male 
Primary Construction Material: Polypropylene 
Setting Type: Fixed
Product Selection:
Gems Snesors rugged inline flow switch offers the same superior performance and resistance to clogging as its metal cousin (FS-380). The fixed set point and simple design make it a dependable switch. The FS-380P is an ideal choice for coolant applications requiring reliable flow detection in HVAC, semiconductor, welding, medical and other industries. 1/4" (6 mm) quick disconnect units have a host of snap-on mating fittings sold separately to fit most piping requirements.
Applications:
Electronic Equipment: Laser Heads, Welders, Power Supplies, High Speed Spindles, X-Ray Tubes, Semiconductor Equipment
Bearings or Gears: Presses, Rotating Equipment, Conveyors, Machine Tools, Robotics
Processing & Dispensing Equipment: Water Purifications and Filtering, X-Ray Film Processing, Beverage Dispensing, Chemical Additives, Gas Sampling, Distilling
For more information and details about Gems FS-380P Flow Switches's information, please [Contact us].
Click to GEMS[捷迈]FS-380P 系列塑料活塞式流量开关中文版 (Gems FS-380P Flow Switches)