Gems RFI Type Visual Electronic Flow Indicator
切换至 中文版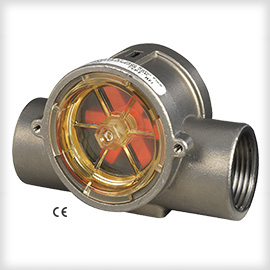 Product Type:
Brand and Serie:
Gems Sensors (捷迈) RFI Series
Product Features:
Bright Visual Flow Confirmation 
Flow Ranges From 0.1 GPM to 60.0 GPM 
Removable Lens for Quick Cleanout 
Available in Brass, Stainless Steel or High Performance Plastic Housings
Product Selection:
Gems Sensors RFI Type is RotorFlow® in its most basic form — a bright orange rotor turning with fluid flow. Simple, direct and reliable. Flow rate is estimated, or simply confirmed, by viewing the speed of the turning rotor. Either port may be used for incoming flow, and bayonet mounting lens is easily removed for quick cleanout. RFI Type RotorFlow® sensors are easy to see, easy to install and easy to afford.
Applications:
Visual Flow Confirmation on Heat Exchangers
Plastic Injection Molding Equipment
For more information and details about Gems RFI Flow Sensors's information, please [Contact us].
Click to GEMS[捷迈] RFI型可视化流量指示计中文版 (Gems RFI Flow Sensors)