Gems FS-930 Series Flow Switch
切换至 中文版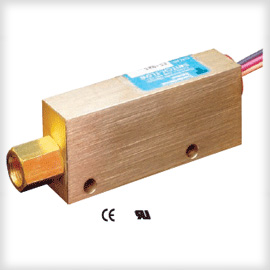 Product Type:
Brand and Serie:
Gems Sensors (捷迈) FS-930 Series
Product Features:
Flow Rate Settings: 0.1 GPM to 1.0 GPM
Port Size: 1/4" NPT 
Primary Construction Material: Brass 
Setting Type: Fixed
Product Selection:
A unique, patented piston design assures accuracy within 20% over a full range of viscosities - from 40 to 1000 SSU. Ideal for use in applications where liquids of different viscosities are blended; or for use in lubrication systems where oil flow monitoring is critical at start-ups. Switch compensates for viscosity changes automatically. Each unit is factory preset, using 300 SSU oil, for actuation at specified flow rates.
Applications:
Electronic Equipment: Laser Heads, Welders, Power Supplies, High Speed Spindles, X-Ray Tubes, Semiconductor Equipment
Bearings or Gears: Presses, Rotating Equipment, Conveyors, Machine Tools, Robotics
Processing & Dispensing Equipment: Water Purifications and Filtering, X-Ray Film Processing, Beverage Dispensing, Chemical Additives, Gas Sampling, Distilling
For more information and details about Gems FS-930 Flow Switches's information, please [Contact us].
Click to GEMS[捷迈] FS-930 系列流量开关中文版 (Gems FS-930 Flow Switches)